Search Results
We have found 8 items matching your search query.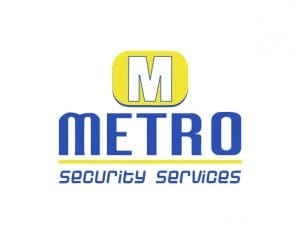 Metro Security Services, Port Elizabeth
distance: 4,622 Kilometers
0418118499
SECURITY Established in 2003, Metro Security Services has grown to become a dynamic organisation within the South African security industry. Providing specialised solutions to vari

4 Disa Avenue Jeffrey's Bay, Eastern Cape, South Africa
distance: 4,590 Kilometers
0861101516
Smhart Security is an innovative security provider based in the Kouga Region of the Eastern Cape. We provide security services in 16 areas – from Plettenberg Bay along the coastl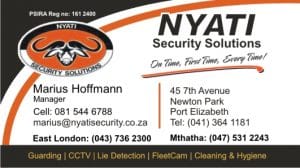 45 7th Avenue, Newton Park, Port Elizabeth
distance: 4,620 Kilometers
0413641181
Nyati Security offers Guarding services for Retail | Industrial | Medical | Corporate | Construction facilities as well as special event and once off guarding services. – Dis

Chester Road, East London 5201
distance: 4,689 Kilometers
0437034700
Founded in 1982, Red Alert Cleaning and Security quickly became an established family business with a developed social conscience. Always aiming to operate ahead of the curve in a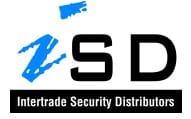 43 Pickering Street Newton Park Port Elizabeth 6001
distance: 4,620 Kilometers
0413642585
Intertrade Security Distributors is an electronic security wholesaler providing a range of products and services to the South African market since 1988. We offer a superior level o

44 Botha Street Despatch
distance: 4,601 Kilometers
0419333114
DCS Security is a privately owned security company situated in Despatch, in the Eastern Cape. We have now been installing alarms and tending to armed response for the past 5 years.

119 Russell Road Central Port Elizabeth 6001
distance: 4,624 Kilometers
0415861044
Vikela Security is located in Port Elizabeth. Services: – Armed response – Security guards – CCTV – Monitoring Security company located in Port Elizabeth, E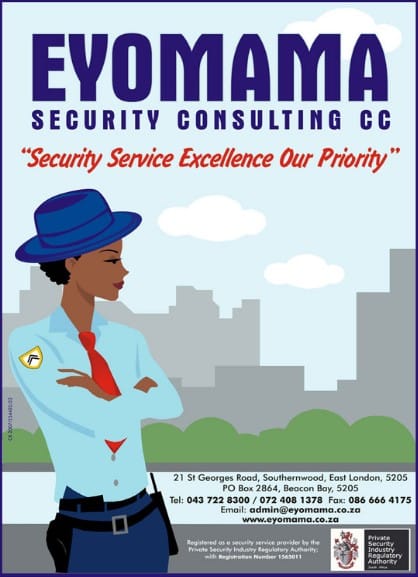 21 St Georges Road Southernwood, East London 5205
distance: 4,689 Kilometers
0437228300
Eyomama Security Consulting cc is a 100% black owned female security company. The company is run and managed by all three women members who are active in the business, operating as